Le proposte dagli Executive
Convenant Partners
In questa sezione desideriamo proporre alcune letture di interesse manageriale aggiornate e stimolanti.
Sono frutto di indicazioni da parte di autorevoli Executive e Top Business School internazionali, che ringraziamo per il loro contributo.
Consigli di lettura suggeriti da:
Raffaella Temporiti
Human Resources Director for Accenture – Italy, Central Eastern Europe and Greece
Consigli di lettura suggeriti da:
Stefano Lucchini
Chief Institutional Affairs and External Communication Officer – Intesa Sanpaolo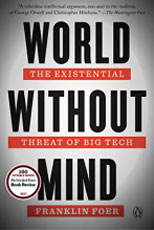 Franklin Foer reveals the existential threat posed by big tech, and in his brilliant polemic gives us the toolkit to fight their pervasive influence. 
Over the past few decades there has been a revolution in terms of who controls knowledge and information. This rapid change has imperiled the way we think. Without pausing to consider the cost, the world has rushed to embrace the products and services of four titanic corporations. We shop with Amazon; socialize on Facebook; turn to Apple for entertainment; and rely on Google for information. These firms sell their efficiency and purport to make the world a better place, but what they have done instead is to enable an intoxicating level of daily convenience. As these companies have expanded, marketing themselves as champions of individuality and pluralism, their algorithms have pressed us into conformity and laid waste to privacy. They have produced an unstable and narrow culture of misinformation, and put us on a path to a world without private contemplation, autonomous thought, or solitary introspection—a world without mind. In order to restore our inner lives, we must avoid being coopted by these gigantic companies, and understand the ideas that underpin their success.
Elegantly tracing the intellectual history of computer science—from Descartes and the enlightenment to Alan Turing to Stewart Brand and the hippie origins of today's Silicon Valley—Foer exposes the dark underpinnings of our most idealistic dreams for technology. The corporate ambitions of Google, Facebook, Apple, and Amazon, he argues, are trampling longstanding liberal values, especially intellectual property and privacy. This is a nascent stage in the total automation and homogenization of social, political, and intellectual life. By reclaiming our private authority over how we intellectually engage with the world, we have the power to stem the tide.
At stake is nothing less than who we are, and what we will become. There have been monopolists in the past but today's corporate giants have far more nefarious aims. They're monopolists who want access to every facet of our identities and influence over every corner of our decision-making. Until now few have grasped the sheer scale of the threat. Foer explains not just the looming existential crisis but the imperative of resistance.
Consigli di lettura suggeriti da:
Massimiliano Maffioli
Chief People Officer – McDonald's Italy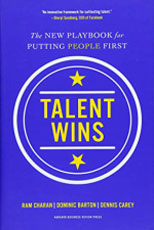 Radical Advice for Reinventing Talent and HR
Most executives today recognize the competitive advantage of human capital, and yet the talent practices their organizations use are stuck in the twentieth century.
Typical talent-planning and HR processes are designed for predictable environments, traditional ways of getting work done, and organizations where "lines and boxes" still define how people are managed. As work and organizations have become more fluid–and business strategy is no longer about planning years ahead but about sensing and seizing new opportunities and adapting to a constantly changing environment–companies must deploy talent in new ways to remain competitive.
Turning conventional views on their heads, talent and leadership experts Ram Charan, Dominic Barton, and Dennis Carey provide leaders with a new and different playbook for acquiring, managing, and deploying talent–for today's agile, digital, analytical, technologically driven strategic environment–and for creating the HR function that business needs. Filled with examples of forward-thinking companies that have adopted radical new approaches to talent (such as ADP, Amgen, BlackRock, Blackstone, Haier, ING, Marsh, Tata Communications, Telenor, and Volvo), as well as the juggernauts and the startups of Silicon Valley, this book shows leaders how to bring the rigor that they apply to financial capital to their human capital–elevating HR to the same level as finance in their organizations.
Providing deep, expert insight and advice for what needs to change and how to change it, this is the definitive book for reimagining and creating a talent-driven organization that wins.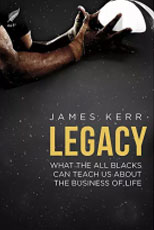 In Legacy, best-selling author James Kerr goes deep into the heart of the world's most successful sporting team, the legendary All Blacks of New Zealand, to reveal 15 powerful and practical lessons for leadership and business.
Legacy is a unique, inspiring handbook for leaders in all fields, and asks: What are the secrets of success – sustained success? How do you achieve world-class standards, day after day, week after week, year after year? How do you handle pressure? How do you train to win at the highest level? What do you leave behind you after you're gone?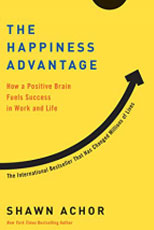 Our most commonly held formula for success is broken.
Conventional wisdom holds that if we work hard we will be more successful, and if we are more successful, then we'll be happy. If we can just find that great job, win that next promotion, lose those five pounds, happiness will follow. But recent discoveries in the field of positive psychology have shown that this formula is actually backward: Happiness fuels success, not the other way around.
When we are positive, our brains become more engaged, creative, motivated, energetic, resilient, and productive at work. This isn't just an empty mantra. This discovery has been repeatedly borne out by rigorous research in psychology and neuroscience, management studies, and the bottom lines of organizations around the globe.
In The Happiness Advantage, Shawn Achor, who spent over a decade living, researching, and lecturing at Harvard University, draws on his own research—including one of the largest studies of happiness and potential at Harvard and others at companies like UBS and KPMG—to fix this broken formula. Using stories and case studies from his work with thousands of Fortune 500 executives in 42 countries, Achor explains how we can reprogram our brains to become more positive in order to gain a competitive edge at work.
Isolating seven practical, actionable principles that have been tried and tested everywhere from classrooms to boardrooms, stretching from Argentina to Zimbabwe, he shows us how we can capitalize on the Happiness Advantage to improve our performance and maximize our potential. Among the principles he outlines:
• The Tetris Effect: how to retrain our brains to spot patterns of possibility, so we can see—and seize—opportunities wherever we look.
• The Zorro Circle: how to channel our efforts on small, manageable goals, to gain the leverage to gradually conquer bigger and bigger ones.
• Social Investment: how to reap the dividends of investing in one of the greatest predictors of success and happiness—our social support network
A must-read for everyone trying to excel in a world of increasing workloads, stress, and negativity, The Happiness Advantage isn't only about how to become happier at work. It's about how to reap the benefits of a happier and more positive mind-set to achieve the extraordinary in our work and in our lives.
Consigli di lettura suggeriti da:
Marco Alberti
Head of International Institutional Affairs – Enel SpA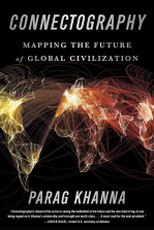 From the visionary bestselling author of The Second World and How to Run the World comes a bracing and authoritative guide to a future shaped less by national borders than by global supply chains, a world in which the most connected powers—and people—will win.
Connectivity is the most revolutionary force of the twenty-first century. Mankind is reengineering the planet, investing up to ten trillion dollars per year in transportation, energy, and communications infrastructure linking the world's burgeoning megacities together. This has profound consequences for geopolitics, economics, demographics, the environment, and social identity. Connectivity, not geography, is our destiny.
In Connectography, visionary strategist Parag Khanna travels from Ukraine to Iran, Mongolia to North Korea, Pakistan to Nigeria, and across the Arctic Circle and the South China Sea to explain the rapid and unprecedented changes affecting every part of the planet. He shows how militaries are deployed to protect supply chains as much as borders, and how nations are less at war over territory than engaged in tugs-of-war over pipelines, railways, shipping lanes, and Internet cables. The new arms race is to connect to the most markets—a race China is now winning, having launched a wave of infrastructure investments to unite Eurasia around its new Silk Roads. The United States can only regain ground by fusing with its neighbors into a super-continental North American Union of shared resources and prosperity.
Connectography offers a unique and hopeful vision for the future. Khanna argues that new energy discoveries and technologies have eliminated the need for resource wars; ambitious transport corridors and power grids are unscrambling Africa's fraught colonial borders; even the Arab world is evolving a more peaceful map as it builds resource and trade routes across its war-torn landscape. At the same time, thriving hubs such as Singapore and Dubai are injecting dynamism into young and heavily populated regions, cyber-communities empower commerce across vast distances, and the world's ballooning financial assets are being wisely invested into building an inclusive global society. Beneath the chaos of a world that appears to be falling apart is a new foundation of connectivity pulling it together.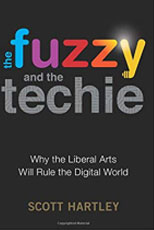 A leading venture capitalist offers surprising revelations on who is going to be driving innovation in the years to come
Scott Hartley first heard the terms fuzzy and techie while studying political science at Stanford University. If you majored in the humanities or social sciences, you were a fuzzy. If you majored in the computer sciences, you were a techie. This informal division has quietly found its way into a default assumption that has misled the business world for decades: that it's the techies who drive innovation.
But in this brilliantly contrarian book, Hartley reveals the counterintuitive reality of business today: it's actually the fuzzies – not the techies – who are playing the key roles in developing the most creative and successful new business ideas. They are often the ones who understand the life issues that need solving and offer the best approaches for doing so. It is they who are bringing context to code, and ethics to algorithms.They also bring the management and communication skills, the soft skills that are so vital to spurring growth.
Hartley looks inside some of today's most dynamic new companies, reveals breakthrough fuzzy-techie collaborations, and explores how such collaborations are at the center of innovation in business, education, and government, and why liberal arts are still relevant in our techie world.
Consigli di lettura suggeriti da:
Annalisa Sala
HR Director PAN Europe – Mattel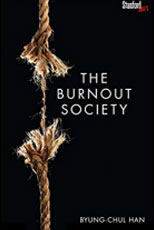 Our competitive, service-oriented societies are taking a toll on the late-modern individual. Rather than improving life, multitasking, "user-friendly" technology, and the culture of convenience are producing disorders that range from depression to attention deficit disorder to borderline personality disorder. Byung-Chul Han interprets the spreading malaise as an inability to manage negative experiences in an age characterized by excessive positivity and the universal availability of people and goods. Stress and exhaustion are not just personal experiences, but social and historical phenomena as well. Denouncing a world in which every against-the-grain response can lead to further disempowerment, he draws on literature, philosophy, and the social and natural sciences to explore the stakes of sacrificing intermittent intellectual reflection for constant neural connection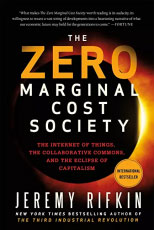 In The Zero Marginal Cost Society, New York Times bestselling author Jeremy Rifkin describes how the emerging Internet of Things is speeding us to an era of nearly free goods and services, precipitating the meteoric rise of a global Collaborative Commons and the eclipse of capitalism.
Rifkin uncovers a paradox at the heart of capitalism that has propelled it to greatness but is now taking it to its death―the inherent entrepreneurial dynamism of competitive markets that drives productivity up and marginal costs down, enabling businesses to reduce the price of their goods and services in order to win over consumers and market share. (Marginal cost is the cost of producing additional units of a good or service, if fixed costs are not counted.) While economists have always welcomed a reduction in marginal cost, they never anticipated the possibility of a technological revolution that might bring marginal costs to near zero, making goods and services priceless, nearly free, and abundant, and no longer subject to market forces.
Now, a formidable new technology infrastructure―the Internet of things (IoT)―is emerging with the potential of pushing large segments of economic life to near zero marginal cost in the years ahead. Rifkin describes how the Communication Internet is converging with a nascent Energy Internet and Logistics Internet to create a new technology platform that connects everything and everyone. Billions of sensors are being attached to natural resources, production lines, the electricity grid, logistics networks, recycling flows, and implanted in homes, offices, stores, vehicles, and even human beings, feeding Big Data into an IoT global neural network. Prosumers can connect to the network and use Big Data, analytics, and algorithms to accelerate efficiency, dramatically increase productivity, and lower the marginal cost of producing and sharing a wide range of products and services to near zero, just like they now do with information goods.
The plummeting of marginal costs is spawning a hybrid economy―part capitalist market and part Collaborative Commons―with far reaching implications for society, according to Rifkin. Hundreds of millions of people are already transferring parts of their economic lives to the global Collaborative Commons. Prosumers are plugging into the fledgling IoT and making and sharing their own information, entertainment, green energy, and 3D-printed products at near zero marginal cost. They are also sharing cars, homes, clothes and other items via social media sites, rentals, redistribution clubs, and cooperatives at low or near zero marginal cost. Students are enrolling in free massive open online courses (MOOCs) that operate at near zero marginal cost. Social entrepreneurs are even bypassing the banking establishment and using crowdfunding to finance startup businesses as well as creating alternative currencies in the fledgling sharing economy. In this new world, social capital is as important as financial capital, access trumps ownership, sustainability supersedes consumerism, cooperation ousts competition, and "exchange value" in the capitalist marketplace is increasingly replaced by "sharable value" on the Collaborative Commons.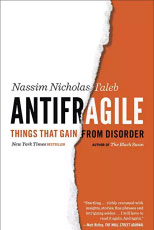 Antifragile is a standalone book in Nassim Nicholas Taleb's landmark Incerto series, an investigation of opacity, luck, uncertainty, probability, human error, risk, and decision-making in a world we don't understand. The other books in the series are Fooled by Randomness, The Black Swan, Skin in the Game, and The Bed of Procrustes.
Nassim Nicholas Taleb, the bestselling author of The Black Swan and one of the foremost thinkers of our time, reveals how to thrive in an uncertain world.
Just as human bones get stronger when subjected to stress and tension, and rumors or riots intensify when someone tries to repress them, many things in life benefit from stress, disorder, volatility, and turmoil. What Taleb has identified and calls "antifragile" is that category of things that not only gain from chaos but need it in order to survive and flourish.
In The Black Swan, Taleb showed us that highly improbable and unpredictable events underlie almost everything about our world. In Antifragile, Taleb stands uncertainty on its head, making it desirable, even necessary, and proposes that things be built in an antifragile manner. The antifragile is beyond the resilient or robust. The resilient resists shocks and stays the same; the antifragile gets better and better.
Furthermore, the antifragile is immune to prediction errors and protected from adverse events. Why is the city-state better than the nation-state, why is debt bad for you, and why is what we call "efficient" not efficient at all? Why do government responses and social policies protect the strong and hurt the weak? Why should you write your resignation letter before even starting on the job? How did the sinking of the Titanic save lives? The book spans innovation by trial and error, life decisions, politics, urban planning, war, personal finance, economic systems, and medicine. And throughout, in addition to the street wisdom of Fat Tony of Brooklyn, the voices and recipes of ancient wisdom, from Roman, Greek, Semitic, and medieval sources, are loud and clear.
Consigli di lettura suggeriti da:
Paolo Le Pera
HR Director Italy – Philip Morris International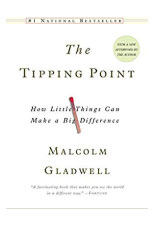 The tipping point is that magic moment when an idea, trend, or social behavior crosses a threshold, tips, and spreads like wildfire. Just as a single sick person can start an epidemic of the flu, so too can a small but precisely targeted push cause a fashion trend, the popularity of a new product, or a drop in the crime rate. This widely acclaimed bestseller, in which Malcolm Gladwell explores and brilliantly illuminates the tipping point phenomenon, is already changing the way people throughout the world think about selling products and disseminating ideas.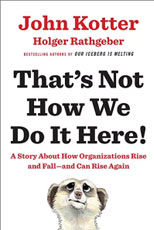 What's the worst thing you can hear when you have a good idea at work?
"That's not how we do it here!"
In their iconic bestseller Our Iceberg Is Melting, John Kotter and Holger Rathgeber used a simple fable about penguins to explain the process of leading people through major changes. Now, ten years later, they're back with another must-read story that will help any team or organization cope with their biggest challenges and turn them into exciting opportunities.
Once upon a time a clan of meerkats lived in the Kalahari, a region in southern Africa. After years of steady growth, a drought has sharply reduced the clan's resources, and deadly vulture attacks have increased. As things keep getting worse, the harmony of the clan is shattered. The executive team quarrels about possible solutions, and suggestions from frontline workers face a soul-crushing response: "That's not how we do it here!"
So Nadia, a bright and adventurous meerkat, hits the road in search of new ideas to help her troubled clan. She discovers a much smaller group that operates very differently, with much more teamwork and agility. These meerkats have developed innovative solutions to find food and evade the vultures. But not everything in this small clan is as perfect as it seems at first.
Can Nadia figure out how to combine the best of both worlds—a large, disciplined, well-managed clan and a small, informal, inspiring clan—before it's too late?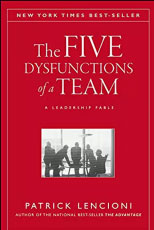 In The Five Dysfunctions of a Team Patrick Lencioni once again offers a leadership fable that is as enthralling and instructive as his first two best-selling books, The Five Temptations of a CEO and The Four Obsessions of an Extraordinary Executive. This time, he turns his keen intellect and storytelling power to the fascinating, complex world of teams.
Kathryn Petersen, Decision Tech's CEO, faces the ultimate leadership crisis: Uniting a team in such disarray that it threatens to bring down the entire company. Will she succeed? Will she be fired? Will the company fail? Lencioni's utterly gripping tale serves as a timeless reminder that leadership requires as much courage as it does insight.
Throughout the story, Lencioni reveals the five dysfunctions which go to the very heart of why teams even the best ones-often struggle. He outlines a powerful model and actionable steps that can be used to overcome these common hurdles and build a cohesive, effective team. Just as with his other books, Lencioni has written a compelling fable with a powerful yet deceptively simple message for all those who strive to be exceptional team leaders.
Consigli di lettura suggeriti da:
Daniela Pirro
HR Director Italy and HR Retail Director EMEA – Estee Lauder Companies Europe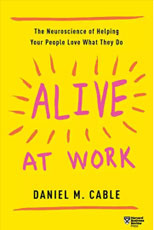 Poll after poll has confirmed that an astonishing number of workers are disengaged from their work. Why is this happening? And how can we fix the problem?
In this bold, enlightening book, social psychologist and professor Daniel M. Cable takes leaders into the minds of workers and reveals the surprising secret to restoring their zest for work.
Disengagement isn't a motivational problem, it's a biological one. Humans aren't built for routine and repetition. We're designed to crave exploration, experimentation, and learning–in fact, there's a part of our brains, which scientists have coined "the seeking system," that rewards us for taking part in these activities. But the way organizations are run prevents many of us from following our innate impulses. As a result, we shut down.
Things need to change. More than ever before, employee creativity and engagement are needed to win. Fortunately, it won't take an extensive overhaul of your organizational culture to get started. With small nudges, you can personally help people reach their fullest potential.
Alive at Work reveals:
How to encourage people to bring their best selves to work and use their greatest strengths to help your organization flourish
How to build creative environments that motivate people to share ideas, work smarter, and embrace change
How to enhance people's connection to their work and your customers
How to create personalized experiences that help people feel a deeper sense of purpose
Filled with fascinating stories from the author's extensive research, Alive at Work is the inspirational guide that you need to tap into the passion, creativity, and purpose fizzing beneath the surface of every person who falls under your leadership.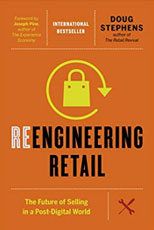 Since the release of Doug Stephens' first book, The Retail Revival, change in the global retail sector has accelerated beyond even the boldest forecasts. As predicted, online giants like Amazon and Alibaba.com are growing at a dizzying pace. Hundreds of well-known brick and mortar retailers have closed their doors, and brands and retailers across categories are struggling to understand the shifting needs and expectations of a new consumer.
Picking up where The Retail Revival left off, Reengineering Retail explores the coming revolution in the global retail and consumer goods market, offering sales and marketing executives a roadmap to the future.
Author and internationally renowned consumer futurist, Doug Stephens, paints a bold vision of the future where every aspect of the retail experience as we know it, will be radically transformed. From online to bricks and mortar, the very concept of what stores are, how consumers shop them, and even the core economic model for revenue, will be will be profoundly reinvented; changes sure to affect not only retailers large and small but any business with a stake in the global retail industry.
Infused with real world examples and interviews with industry disruptors, Reengineering Retailillustrates the vast opportunities at play for bold brands and business leaders. Stephens' strategies will provide businesses with the foresight required to move quickly and effectively into the future.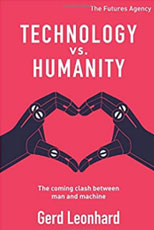 Futurist Gerd Leonhard breaks new ground again by bringing together mankind's urge to upgrade and automate everything—down to human biology itself—with our timeless quest for freedom and happiness. Before it's too late, we must stop and ask the big questions: How do we embrace technology without becoming it? When it happens—gradually, then suddenly—the machine era will create the greatest watershed in human life on Earth. Technology vs. Humanity is one of the last moral maps we'll get as humanity enters the Jurassic Park of Big Tech. Artificial intelligence. Cognitive computing. The Singularity. Digital obesity. Printed food. The Internet of Things. The death of privacy. The end of work-as-we-know-it, and radical longevity: The imminent clash between technology and humanity is already rushing towards us. What moral values are you prepared to stand up for—before being human alters its meaning forever? Gerd Leonhard is a new kind of futurist schooled in the humanities as much as in technology. In his most provocative book to date, he explores the exponential changes swamping our societies, providing rich insights and deep wisdom for business leaders, professionals and anyone with decisions to make in this new era. If you take being human for granted, press Reset now with this passionately argued call to create a genuinely braver new world.
I grandi classici secondo le Top Business School